22nd of June 2017
MSC MARIA LAURA Caught in the Net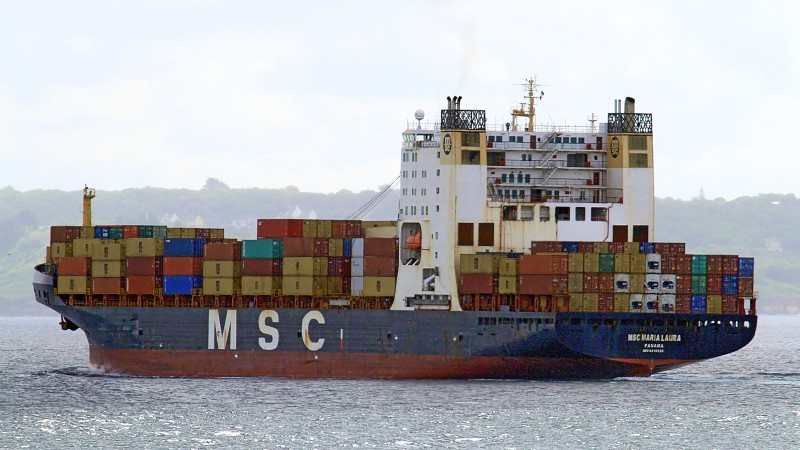 M/V MSC MARIA LAURA with IMO N° 8616520, flying the Panama Flag arrived at Bremerhaven on 14 January 2017. The vessel reported before arrival to have lost one life raft during bad weather on the way through the North Sea. After arrival the waterways police attended the vessel and reported to the PSC office additional damages on containers, lights on deck and gangways. Therefore a PSCO was sent on board for an inspection. On arrival at 18:00 hrs it quickly got clear that not only the sea damage was worse than expected but the general condition of the vessel was poor.
Statutory certificates issued by Bureau Veritas were presented and found all valid until September 2021. The ISM system had been audited by DNV GL and a valid DOC and SMC was available. The inspection revealed 40 deficiencies, 33 of which were considered as ground for detention and 35 were found to be ISM related. Of the several damages sustained by the vessel from the rough sea, only the missing life raft was reported to the authorities, so only this item could be counted as "accidental damage". A second deficiency was issued for not reporting, with the code 17198 Other (SOLAS operational).
As damages from the sea were found:
Fire hose boxes damaged, missing, inventory washed to the sea;
All lights on port side destroyed, washed away, sheer cables remaining on deck;
Several cleats for hatch covers bent or missing.
Some of the other deficiencies found on board:
Fire detection system indicating fire alarms at places without fire;
Several weather tight doors found damaged, not tightly closing;
Bridge windows not installed correctly, partly blind;
Navigational and signal lights inoperative.
Because of the obviously sub-standard condition of the vessel and the amount of detainable deficiencies in various areas the inspection was suspended and flag and RO were informed. Re-inspection took place on 21 January 2017, after the external ISM audit had been carried out. The general condition had clearly improved and deficiencies found rectified or were agreed as flag state condition for a shorter period, so the vessel was allowed to sail in the afternoon after eight days of detention.
MSC MARIA LAURA Caught in the Net deficiencies
For more Caught in the net video's look at our  Youtube Chanel