24th of June 2019
M/V¨TOK TOK IMO 7337543 Caught in the Net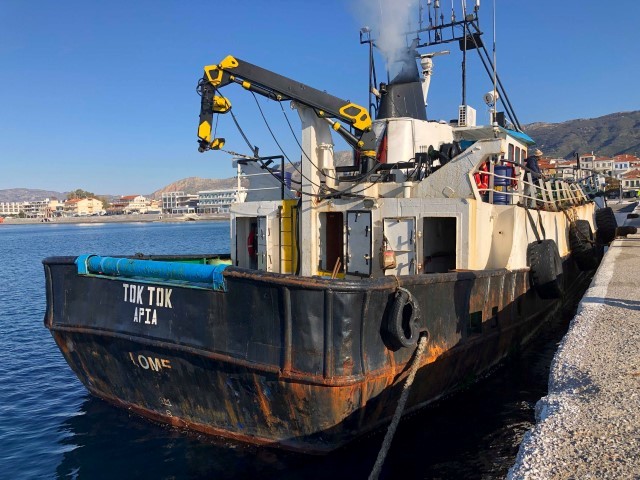 M/V ¨TOK TOK¨ with IMO number 7337543, flying the Government of Samoa flag, called at the port of Neapolis (Greece) on 28 December 2018 due to M/E malfunction. The ship was not listed in THETIS, probably because the vessel was never inspected or called at one of the Paris MoU ports before. After the correspondence by e-mail with EMSA, the vessel was inserted in THETIS and it appeared as a ''unknown ship'' with Priority I (PI) and was therefore eligible for inspection.
Early in the morning, on the same day, the PSCO visited the vessel, berthed on its starboard side in the port of Neapolis. Before embarking, the PSCO did the appropriate check of the external condition of the hull, the draft marks and the other basic and unique characteristics of the vessel such as its name, port of registry and IMO number. The external condition of the vessel was extremely degraded.
In general, during a more detailed (MD) inspection forty five (45) deficiencies were found, which were considered as clear grounds for detention. Some of the deficiencies found on board:
The tonnage certificate was not found on board;
Fire training manual and shipboard operational booklet - maintenance program, which includes the maintenance plan and inspections for the Fire Fighting Equipment, were missing;
No evidence was found on board of programs for the prevention of occupational accidents, injuries and diseases meeting the standards of MLC 2006;
Insufficient quantity of fresh provisions (vegetables, fruits, etc.). Various provisions (potatoes, onions, etc.) were placed in a storage area with other materials and in other inappropriate spaces;
The galley was found in an indescribable condition;
All over the decks and in the C/H, broken protective light covers and various bare cables hanging out around were found;
The steering gear mechanism and the hydraulic pipe lining were not properly maintained and rusted;
The fire detection system, which was installed on board, was found out of order.
After the completion of the inspection, late in the evening of 28 December 2018, a detention order was issued and all the responsible parties were informed accordingly.
After approximately 50 days under detention, the vessel still remains berthed in the port of Neapolis since 19 February 2019. As it turned out, all the certificates of seaworthiness issued by the R.O. (Acsent Naval), on behalf of the flag administration of the ship (Samoa), were found invalid as the Certificate of Registry was falsified.
Please see below the full CitN Report for pictures of the inspection of the M/V TOK TOK