24th of June 2019
M/V VIRILE IMO 9012795 Caught in the Net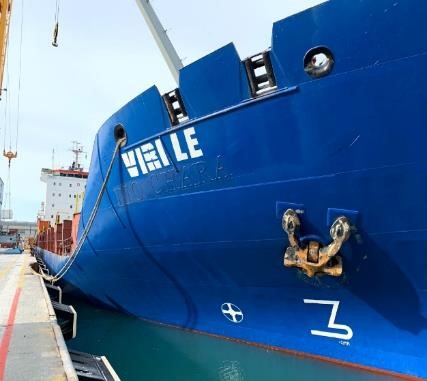 The general cargo ship "VIRILE" with IMO number 9012795, flying the Comoros Flag, called at Marina di Carrara (Italy) on 6 March 2019 to load various cargo (marble blocks, harvesters and other agricultural vehicles, bulldozers etc.). The expected time of departure was on 14 March 2019 at 07.00 PM.
The vessel, with 18 crew members (1 oiler from Honduras, 4 deck and engine cadets from India and 13 crew members from Syria), was not eligible for inspection, according to the ship's priority. However, on 14 March 2019 a few hours before the commercial operations were completed, the Marina di Carrara Port State Control office received a complaint by e-mail regarding the long lasting non-payment of due wages by the captain and the shameful sanitary and safety conditions on board.
The claimed issue was considered, according to the professional judgement of the PSC team, real and urgent and consequently the PSC team decided to board the ship to verify the safety conditions and the treatment of the workers. An unexpected factor message was inserted in THETIS and a PSC inspection initiated.
The inspectors, who approached the ship, noticed at first that all seafarers engaged in cargo operations were not wearing the appropriate PPE and additionally it was noted that the submersion of the Plimsoll Eye was due to the overloading of the ship and wrong stowage of the cargo. The inspection became a "more detailed" one, focusing mainly on accommodation, sanitary facilities, quantity and quality of food, working and living conditions and other items falling under MLC 2006. The ship's condition was so poorly that a total of 18 deficiencies were found, of which 13 were considered ground for detention. Some of the deficiencies found on board:
A mephitic smell all over the accommodation area, due to not working flushes in the sanitary facilities;
Broken basins with water leakages next to electrical devices;
Inoperative or insufficient ventilation;
Dirty wool covers on mattresses instead of sheets;
Rain and/or humidity penetrations inside crew quarters and cabins due to cracked windows;
Insects and filth were found in the galley.
After the Flag State's re-inspection and the endorsement of the statutory certificates, the M/V VIRILE, was cast off to Saida on 21 March 2019. All the deficiencies were rectified.
Please see below the full CitN Report for pictures of the inspection of the M/V VIRILE